In this myrecordjournal.com article, Dan Dalton from Davey's Hamden office shares how the spotted lanternfly infestation is being handled.
Posted: August 07, 2023
At first glance, spotted lanternflies may appear beautiful, with gray, black, and red layers of spotted wings. However, this colorful creature holds the rank of one of Connecticut's most invasive species.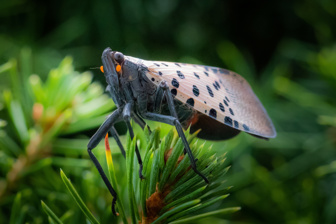 First appearing in the United States in Pennsylvania in 2014, the spotted lanternfly originates from China, India, and Vietnam and has since spread to 14 U.S. states, including Connecticut. Known as an "invasive plant hopper," the insect damages trees by feeding on sap and can infect grapes, hops, lumber and other types of plants and trees.
"The spotted lanternfly is a new plant pest to the United States and represents a threat to Connecticut's environment, residential areas, and agricultural interests, particularly forests, orchards, vineyards, and nurseries," the Connecticut Department of Energy and Environmental Protection states on its website.
To read Dan's information, click here.
For more information, contact the Hamden Davey office.