Posted: November 05, 2021
In this Boston Globe article, George Barth from Hartney Greymont, a Davey Company, in Needham, talks about how trees can become damaged during construction, and what you can do to avoid it.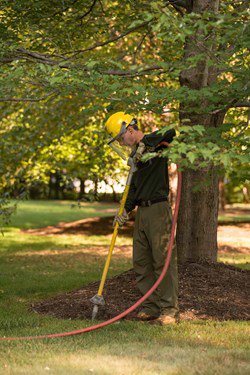 Q. How close to a large tree can I put in a new driveway without killing it? Will a gravel driveway do less harm than macadam? 
A. The drip zone, the outer edges of a tree's leaves, has been adopted by the International Society of Arboriculture as the guide for protecting trees during construction. Temporary fencing should be installed around the drip zone to prevent heavy equipment from driving over roots and crushing them while at work. Another formula for measuring the tree protection zone, or TPZ, is 1-foot distance for each inch diameter of its trunk, according to certified arborist Todd Caswell of Natural Tree & Lawn Care of Avon. George Barth of Hartney Greymont Tree Service of Needham and Concord suggests using an air spade — a tube that blows soil away from roots — so they can be pruned by an arborist, causing much less damage than having tree roots torn off by an excavator. Barth said even gravel driveways can be deadly, typically involving 10 inches of excavation and a layer of sand packed down by heavy equipment beneath the gravel.
To continue reading about ways to protect your landscape during construction, click here.