Posted: September 09, 2021
LINCOLN, Nebraska – The Arbor Day Foundation opened applications for 2021 recognition through the Tree Campus Healthcare program. 
This program focuses on connecting inpatient healthcare facilities of all sizes with local community forestry programs to improve human health outcomes and the extent and condition of the community forest. Since the program began in 2019, there are currently more than 20 Tree Campus Healthcare recognized health institutions in the United States who have collectively planted over 2,700 trees. 
"Trees are a solution to some of the greatest issues we face," said Dan Lambe, president of the Arbor Day Foundation. "We applaud the facilities who are leading the way in improving the health and wellness of their communities through trees."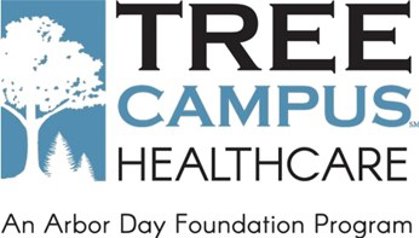 This program is made possible through a professional partnership with The Davey Tree Expert Company and collaborators including the Professional Grounds Management Society, Practice Greenhealth and the USDA Forest Service. Sandra Reid, vice president of corporate communications and strategic planning administration at Davey Tree, said that the company is thrilled to support this important program.
"Davey Tree knows the economic, environmental and emotional benefits that trees provide," she said. "We are proud to participate in a program that encourages healthcare facilities work with their surrounding communities to enhance their green spaces."
Research has proven that patient interaction with green space, gardens, parks and natural areas improve health and well-being. Trees specifically can promote physical activity, calming spaces, cleaner air, more cool urban spaces and even reduce crime in public spaces.
To receive Tree Campus Healthcare recognition, institutions must meet five program standards:
Form an advisory committee
Develop a tree care plan
Participate in a community forestry project
Sponsor a celebration event or education campaign around the connection between trees, nature and human health
Commit to financial investment in tree projects, education events and/or community outreach
The goal behind the program standards is for health care institutions to begin caring for their critical tree canopy and make a mission-aligned impact on community wellness through tree education, investment and community engagement.
Institutions that earn Tree Campus Healthcare recognition will receive various marketing and promotional materials. They also can join a network of urban and community forestry stakeholders to unlock opportunities for collaboration to build the case for community trees and their impact on health.
For more information about the Tree Campus Healthcare program or to apply, visit www.arborday.org/programs/tree-campus-healthcare. Applications are accepted through the end of the year depending on the state.
About the Arbor Day Foundation
Founded in 1972, the Arbor Day Foundation has grown to become the largest nonprofit membership organization dedicated to planting trees, with more than one million members, supporters and valued partners. Since 1972, more than 400 million Arbor Day Foundation trees have been planted in neighborhoods, communities, cities and forests throughout the world. Our vision is to help others understand and use trees as a solution to many of the global issues we face today, including air quality, water quality, climate change, deforestation, poverty and hunger.
As one of the world's largest operating conservation foundations, the Arbor Day Foundation, through its members, partners and programs, educates and engages stakeholders and communities across the globe to involve themselves in its mission of planting, nurturing and celebrating trees. More information is available at arborday.org.
About The Davey Tree Expert Company
The Davey Tree Expert Company provides research-driven tree services, grounds maintenance and environmental consulting for residential, utility, commercial and environmental partners in the U.S. and Canada. Established in 1880 and headquartered in Kent, Ohio, Davey Tree is in the top 10 largest employee-owned companies in the U.S. and has more than 10,000 employees who are driven to create and deliver sustainable solutions. Discover your Davey career and apply today.