Posted: May 19, 2021
In this Fox 4 article, Anthony Williams from Davey's Kansas City office talks about the cedar apple rust fungus and if it's harmful to trees or if it just looks scary.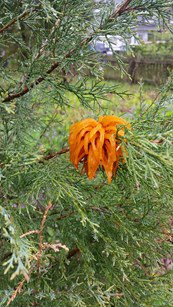 Kansas City is used to rainy spring days, but with so much rain in the forecast, you may have noticed something strange popping up on some of your trees.
It's an orange or red, alien-looking form, that hangs out on cedar and apple trees.
The fungus is actually known as cedar apple rust and grows in galls, something that is similar to a tumor.
According to the U.S. Forest Service, the fungus is common in eastern parts of the country, but it's also popping up in areas of the Midwest.
The cedar apple rust most commonly appears when eastern red cedar trees are near crabapple or apple trees.
To read what Anthony has to say about this fungus, click here.