Posted: August 18, 2020
In this Newsday.com interview, Kevin Sheehan of Davey's Mid Long Island office in New York tells homeowners to identify potential trees hazards before a storm hits.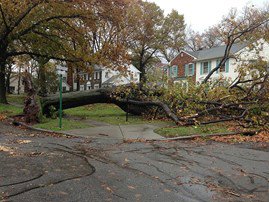 Many Long Island homes are close to trees, which could be problematic amid high winds. Tree-trimming companies can identify and remedy potential hazards.
Homeowners ideally should look for an arborist certified by the International Society of Arboriculture, headquartered in Atlanta, Georgia, says Kevin Sheehan, Hicksville-based Long Island district manager for The Davey Tree Expert Co. of Ohio. Have them check your trees every few years, which Sheehan says most will do for free.
"A tree is a hazard if has a target, such as a home or a car, pedestrians or other structures," he said. "Those are the trees you should be most concerned with."
To read more, click here.