Posted: August 27, 2021
In this Family Handyman article, Lou Meyer, business developer for Davey's mid-Atlantic region, shares nine signs to look out for that may tell you your tree is dying.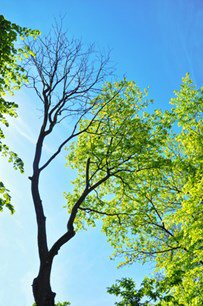 If you're having trouble with your trees or woody shrubs, the first call you should make is to an arborist.
A certified arborist has specialty education in trees and the latest information on how to plant, care for, diagnose, treat and remove trees. They also have access to critical safety gear and powerful tools, plus the license to apply certain chemicals, such as fungicides, to help save a tree.
Trees can be stoic. Many times when signs of distress show up, a problem has been brewing for a while. So while you can follow best practices for planting and maintaining the health of your trees, often major work — or at least specialized knowledge — is needed to prolong a tree's life or stop the spread of a tree disease. Here are the signs to look for.
To read the nine signs, click here.