In this Bob Vila article, Matt Schaefer from Davey's Barrington office how to tell if your tree is dying and what to do about it.
Posted: September 25, 2023
Trees are valuable assets to any landscape, and not just for aesthetic reasons.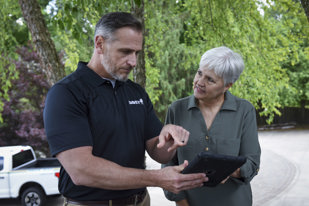 These towering plants also offer shade and shelter for wildlife and other plants. Sometimes it's obvious when a tree is dying: Its leaves might be turning brown in the summer, with branches riddled with holes from wood-boring pests. In other instances, it's not clear when trees are in poor health, but tree health is always worth monitoring. Broken limbs from a dying tree that's located near a home can cause injuries to people and animals, and can lead to costly repairs if they land on your home or car. Keep an eye out for these seven signs that you may have a dying tree so you can take care of it before it does damage to your property.
To read Matt's information, click here.
For more information, contact the Barrington Davey office.